The Canadian Press - ONLINE EDITION
Canadian adults match global peers in reading, fall short in math: OECD test
TORONTO - Canadian adults aren't faring so well globally in math, but they can hold their own when it comes to reading — and a relatively high number are good at solving problems using a computer.
That's according to the results of an international test administered to roughly 166,000 people ages 16 to 65 in more than 20 countries and regions.
The International Assessment of Adult Competencies was developed by the Organization for Economic Co-operation and Development, which is made up of mostly industrialized member countries.
The results of the test — conducted between August 2011 and March 2012 — were released Tuesday.
Finland and Japan were among the top performers, while Italy and Spain — both hard-hit by the recession and debt crisis — were consistently at the bottom.
The U.S., meanwhile, lagged behind many competitors in all three test categories.
Canadians were below average in math, but on par with it in reading.
And a comparatively high proportion — 36.5 per cent — got an advanced score in problem-solving using technology. The international average is 34 per cent.
Only Sweden, Finland, the Netherlands, Norway, Denmark and Australia scored higher.
In nearly all countries, at least 10 per cent of adults lacked basic computer skills such as the ability to use a mouse, the test found.
Adults who scored poorly overall were less likely to be employed, the report said, though there were significant variations between countries.
"Poor proficiency in information-processing skills limits adults' access to many basic services, to better-paying and more-rewarding jobs, and to the possibility of participating in further education and training, which is crucial for developing and maintaining skills over the working life and beyond," the report read.
"Those relationships hold not just for individuals; they also apply to countries: per capita incomes are higher in countries with larger proportions of adults who reach the highest levels of literacy or numeracy proficiency and with smaller proportions of adults at the lowest levels of proficiency.
In some countries, such as England, Germany, Italy, Poland and the U.S., social background has a big impact on literacy skills, meaning the children of parents with low levels of education have lower reading skills.
-with files from The Associated Press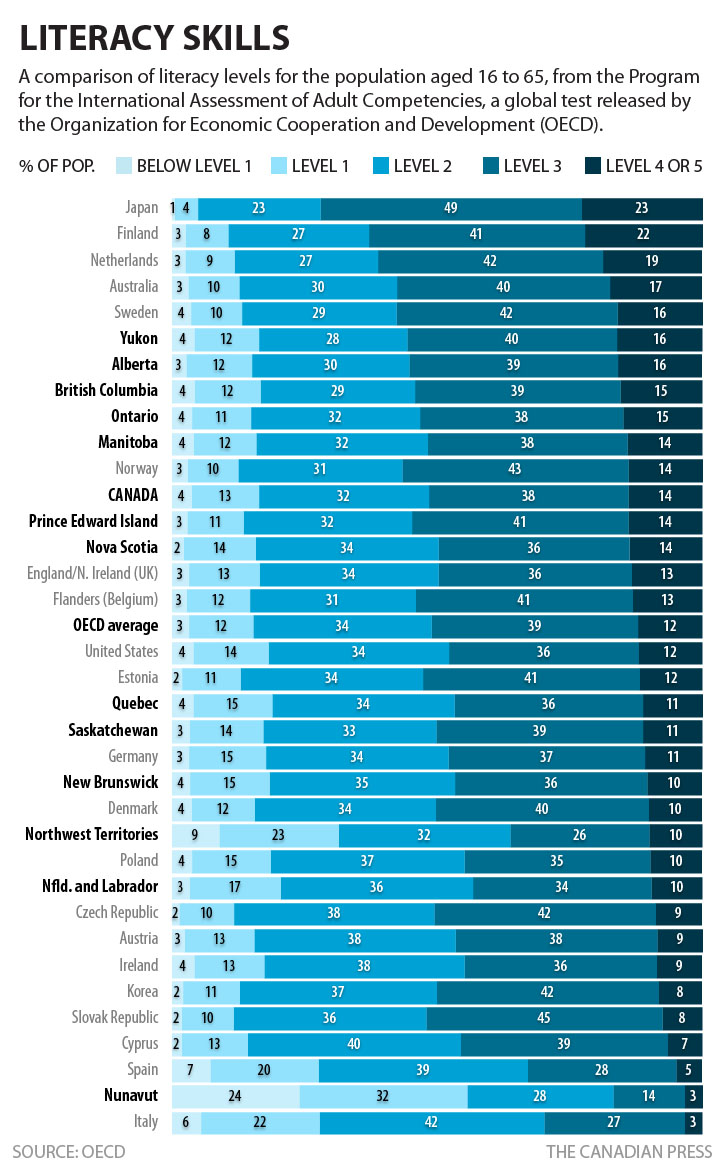 Rate this

This article has not yet been rated.

We want you to tell us what you think of our articles. If the story moves you, compels you to act or tells you something you didn't know, mark it high. If you thought it was well written, do the same. If it doesn't meet your standards, mark it accordingly.

You can also register and/or login to the site and join the conversation by leaving a comment.

Rate it yourself by rolling over the stars and clicking when you reach your desired rating. We want you to tell us what you think of our articles. If the story moves you, compels you to act or tells you something you didn't know, mark it high.
The Brandon Sun does not necessarily endorse any of the views posted. Comments are moderated before publication. By submitting your comment, you agree to our Terms and Conditions. New to commenting? Check out our Frequently Asked Questions.